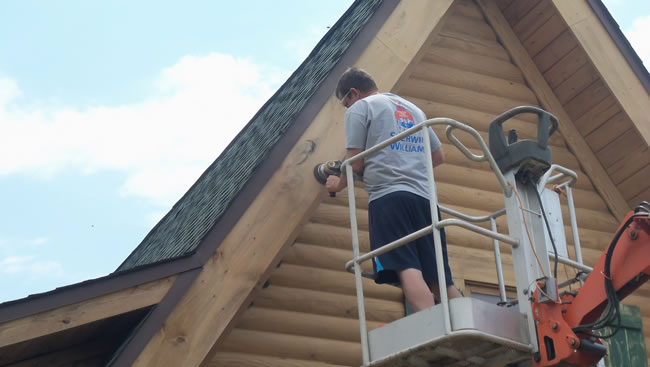 Log Home Refinishing and Wood Restoration Services in Winston-Salem, NC
Do you own a log home, timber frame home or log cabin in the Winston-Salem area of North Carolina?  As you probably already know finding people who are knowledgeable about log structures and their care can sometimes be a tough proposition.  There is much detail that goes into maintaining and repairing log structures so they will continue to share their rustic, natural beauty for many years to come.
WoodTeks LLC is a contractor that specializes in inspecting, maintaining and repairing log homes and timber frame structures throughout the Winston-Salem, NC area.  From inspecting a log home or timber frame structure you are about to purchase to maintaining an existing log structure to insect repellent treatments and even rotted or damaged log repair and replacement.
Log Home Services in Winston-Salem, NC
Log Home Maintenance And Repairs For Out-Of-Town Owners
Do you own a log home, log cabin or timber frame home in the Winston-Salem area but live in other part of the state or even another state, possibly even a different country?  WoodTeks LLC specializes in working with out-of-town log home owners who need a trust worthy and reliable company to inspect, maintain and repair their log home when or if it's needed.
Winston-Salem NC Log Home Repairs and Maintenance
Why Choose WoodTeks LLC For Your Log Home Maintenance and Repairs?
When you choose the WoodTeks LLC team to maintain, restore or repair your log home you are partnering with a team of professionals who specialize in working on only log homes, timber framed homes and rustic wood structures.  We are up-to-date on the latest products and repairing methods, we use top-of-the-line equipment and we'll leave your property spotless aside from your beautifully repaired or restored log home.
If you'd like to receive an estimate to service your Winston-Salem North Carolina log home or cabin then please give us a call or send us an email through our contact form today!
Do You Want To Schedule An Estimate?
Give us a call or use our email form to contact us today and we'll get back to you right away to answer any questions and arrange a time.