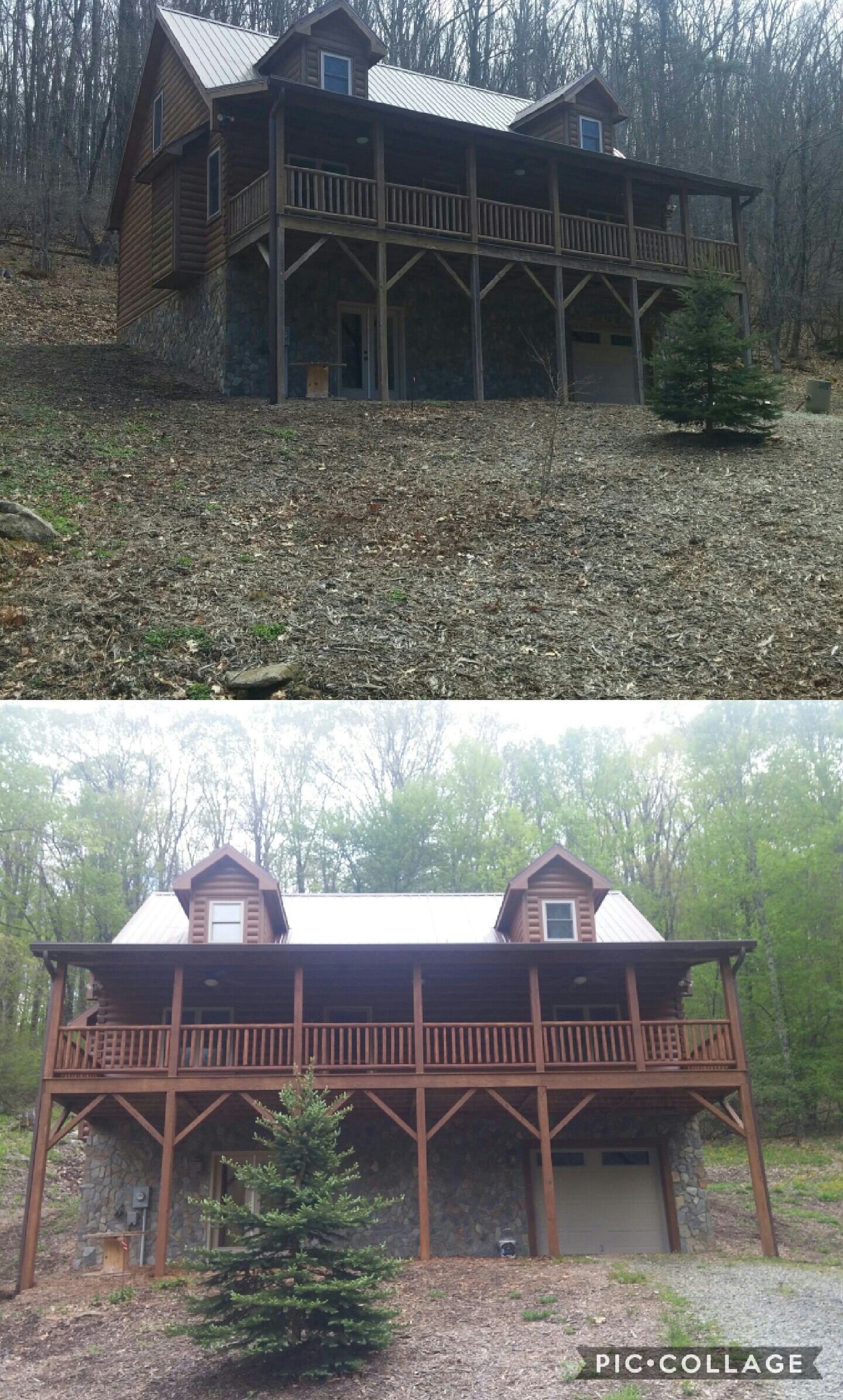 Does Your North Carolina Log Home Need Maintenance?
Yes, it does! It needs the expertise of professionals
Your log home, cabin, barn or other type of log or timber structure is made with wood, a natural product that is very susceptible to a variety of threats from both the weather and wood boring insects that can infest and subsequently destroy portions of your log structure.
WoodTeks LLC is a full service log home refinishing and repair contractor serving Western, NC and Southern VA. We specialize in maintaining the logs in log homes and structures.  From media blasting with corn cob and glass to sanding and refinishing to repairing damaged or rotted sections to borate treatments, caulking, chinking and more. Our experienced log home refinishing team can help maintain, repair or refinish any type of log or wooden structure.
Log Home and Cabin Maintenance North Carolina
Annual Log Home Inspections
Annual Log Cabin Inspections
Inspecting Caulking and Chinking
Replacing or Repairing Caulking and Chinking
Replacing or Repairing Rotted Logs
Borate Treatments
Log Home Insect Infestation Removal
Annual Log Home Cleaning of Exterior
Maintenance Application of  Stain When Needed
Log Home Restoration
Cob Blasting, Media Blasting
How Do We Help You Maintain Your North Carolina Log Home or Cabin?
We take care of it as if it were our own home, simple as that.  Many of our customers do not live in their log homes full time as they are used as vacation homes.  This makes it tough for out-of-town log home owners to properly care for and maintain their log homes.  Even if you live in the home full time, it's a lot of work when it comes time to do maintenance and many homeowners either forget, or just don't feel any urgency to get the maintenance work completed.
Don't Neglect Your Log Home!  It could end up costing you a lot of money in repairs.  With our maintenance service plans we can keep your log home looking new.  We can give you the peace of mind that everything is like it should be, leaving you one less thing to worry about.
Once we restore your log home completely we can set you up with one of our maintenance plans.  Once or twice a year we can come out give the log home a light wash and do a thorough inspection from top to bottom.  We inspect for insect damage, water damage, chinking or caulking that has seperated and the stain itself.
When you choose WoodTeks LLC to maintain your North Carolina log home or cabin you're partnering with the experts in this field.  We'll be able to ensure your log home retains it's natural warmth and rugged beauty for many years to come.