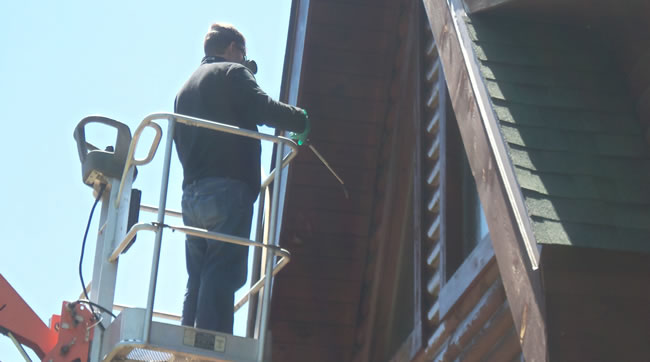 Do You Want To Preserve Your Log, Cabin, Barn or Other Log or Post and Beam Structure?
Wood, like all natural organic material can deteriorate (rot) over time by the invasion of biological organisms such as bacteria, fungus, algae growth and wood boring insects.  In order to keep the wood in excellent condition for long periods of exposure it must be treated and protected.
WoodTeks LLC is a log home refinishing and restoration contractor based out of Jonesville, NC.  We specialize in treating log homes and wood structures with Borate to help protect them from these natural organisms and the elements.  This is a very specialized trade and the application of these products can be dangerous without knowledge, certified people doing the work.
The Benefits Of Using Borate On Your Log or Wood Structure
It kills wood boring insects.
Works to control dry rot.
Once applied to bare wood and as long as the stain sealer stays intact the borates stay in the wood for the life of the wood
The first step before we can begin treating your log home with a borate solution is to make sure there is no water repellent finish on the wood currently.  This can cause the borate solution not to penetrate the wood as deeply as is needed for the best protection.  If it is present then it can be removed via chemical stripping.
The borates ability to penetrate into the wood is what determines how effective it's going to be.  If the borate does not penetrate very deeply and accumulates, then subsequently crystallizes on the surface it will create white deposits that will need to be removed before the staining process.  When homeowners treat log homes themselves or hire a contractor that doesn't properly inspect and clean the logs prior to treatment they often complain about the cosmetic damage they have caused to their home.
Will Borate Help Prevent Damage To My Log Home?
In short, yes.  Borates have proven to be very effective in preventing most wood destroying natural organisms (including insect) from infesting and destroying log structures.  It's very important that proper procedures are followed in it's application or else it won't be near as effective as it could be.
WoodTeks LLC specializes in the application of Borate solutions to log homes and other wood or log structures throughout North Carolina.  If you'd like to have the experts come and assess your specific log home or structure please give us a call and we'll arrange a time to come and provide you with an estimate.