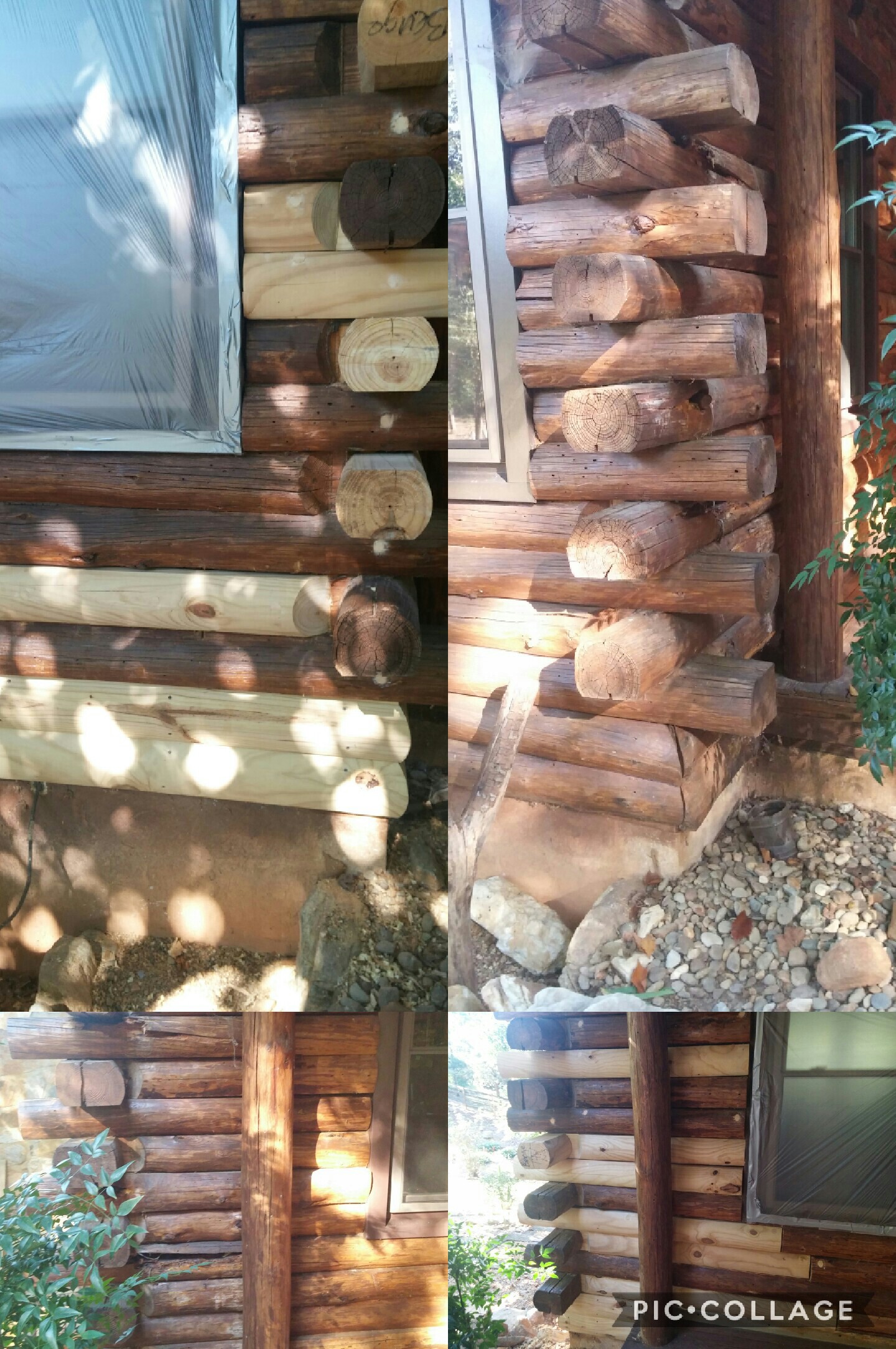 Do You Need Your North Carolina Log Home Repaired?
Dry rot, insect damage and water damage need to be repaired
It's not uncommon for a log home to need repairs or log replacement at some point in it's life.  Insects, dry rot and water damage can all cause damage to your log home that will need to be repaired.  It's water damage or moisture that is the cause of the problem, but it's often brought on initially by other issues that were unseen, ignored or just never addressed.
WoodTeks LLC is a log home restoration and repair contractor servicing Western, North Carolina and Southern, VA.  We specialize in the repair and replacement of damaged logs in a log home or a log structure.  If you have rotten logs, insect damaged logs or logs that are no longer structurally sound we can cut them out and replace them so it looks as good as new.
Log Home and Cabin Repair and Log Replacement North Carolina
Log Home Repairs
Replacing Rotten Logs in Log Homes
Replacing Log Home Chinking
Log Home Inspections
How Do You Repair or Replace The Logs in a Log Home?
There are a few different ways to repair rotten logs in a log home.  The first step in repairing the rotten or deteriorated logs in your log home is a thorough inspection of the damaged area.  We need to explore the area structurally and see not only the extent of the damage but if we can also spot what is contributing to the problem so we can make sure it doesn't happen again.  Is it insects?  Is it water intrusion'?  We'll find out.  We also want to determine which type of repair is going to work best.
In some cases, if the damage is minimal and affecting the home structurally then we can repair rotten areas using special epoxies and wood fillers.  These are very effective for repairing small areas that might have been damaged so long as the outer shell of the log is still in tact.  For areas that have been severely rotted then log replacement is going to be necessary and obviously requires a little more time and skill but will still come out looking like new.
Why Choose WoodTeks LLC To Repair or Replace Logs in Your North Carolina Log Home?
When you choose the WoodTeks LLC team to repair your log home you are partnering with a team of professionals who specialize in working on only log homes, timber framed homes and rustic wood structures.  We are up-to-date on the latest products and repairing methods, we use top-of-the-line equipment and we'll leave your property spotless aside from your beautifully repaired log home.
If you'd like to receive an estimate to repair or replace logs in your North Carolina log home or cabin then please give us a call or send us an email through our contact form today!