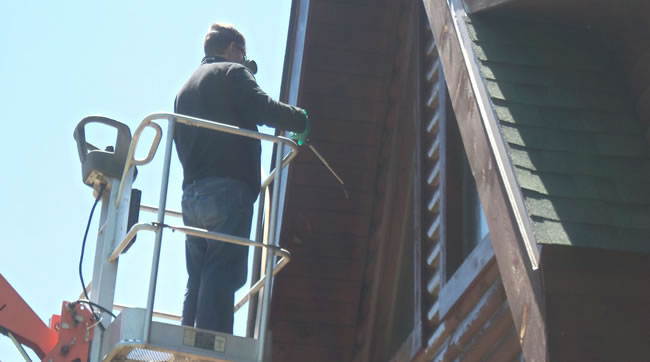 Insect Treatments For Log Homes and Cabins in North Carolina
Beetles, Bees, Ants and Termites can all cause expensive damage to a log home
If your North Carolina log home or cabin has been infested by insects or you'd like to prevent that from happening there are a variety of treatments that can be applied to your home.  Along with special treatments there are often other improvements that can be made to the structure and it's finishing details to prevent any further insect or even rodent infestations.
WoodTeks LLC is a log home restoration contractor based out of Jonesville, NC.  One of our specialized services is the treatment of log homes to prevent insect infestations.  We can treat new log or timber frame construction and we can also re-treat older log homes and structures as well.  Whether you're trying to eliminate an infestation currently or prevent this from happening in the first place we have the knowledge and expertise to solve any insect problems with a log home or structure.
Log Home Insect Treatments in North Carolina
Log Home Spot Treatments
Log Structure Insect Treatments
Pest Control For Log Homes
Log Home Termite Prevention
Log Home Borate Treatments
Log Home Inspections
Will Borate Help Prevent Insect Damage To My Log Home?
In short, yes.  Borates have proven to be very effective in preventing most wood destroying natural organisms (including insects) from infesting and destroying log structures.  It's very important that proper procedures are followed in it's application or else it won't be near as effective as it could be.
WoodTeks LLC specializes in the application of Borate solutions to log homes and other wood or log structures throughout North Carolina.  If you'd like to have the experts come and assess your specific log home or structure please give us a call and we'll arrange a time to come and provide you with an estimate.