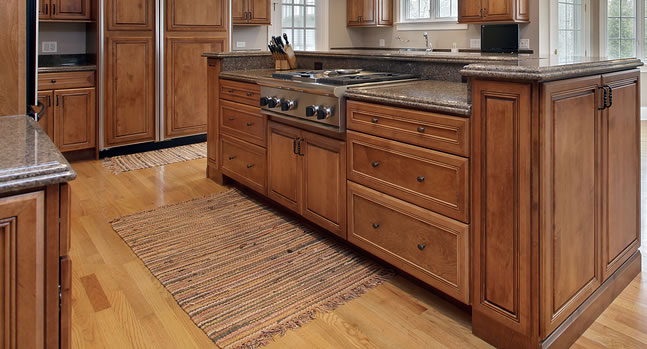 The Beauty Of Wood Cabinetry Is That It Can Be Refinished!
We specialize in revitalizing wood cabinetry and furniture in your home.
Wood cabinets make a beautiful enhancement to any kitchen but after a few years they begin to look a little dull, faded and not as classy as they looked before.  Wood like all natural building materials can be affected by the dust, cooking grease, UV light (think skylights or large windows) and abuse that you'd expect wood cabinets to take in a kitchen.  After a few years of this treatment they are going to look a little weathered.
WoodTeks LLC is a full service wood refinishing contractor based out of Jonesville, NC.  We specialize in the sanding and refinishing of wooden cabinetry in kitchens, bathrooms, living rooms, shops and more.  If you have wood cabinets or wood furniture in your home that you'd like to have refinishing by a professional we're glad you've found our website!
Wood Cabinet Refinishing Services in North Carolina
Interior Wood Sanding and Refinishing
Kitchen Cabinet Refinishing
Bathroom Vanity Refinishing
Wood Cabinets and Cupboard Refinishing
Wood Cabinet Scratch Removal
Refinishing your wooden cabinetry involves a lot of manual labor including removing the cabinet faces, stripping, sanding out imperfections and then of course actually refinishing them.   This lengthy process can be dusty and the fumes from different wood refinishing products can be noxious to some people.  You'll be happy to know we use special dustless sanding and ventilation equipment to keep your house nice and clean.  We also use strippers that aren't solvent based and don't produce any harmful odors.  If you're still concerned about fume we can use top quality water based finishes that don't produce any obnoxious fumes.  If you're tired of the wood look and want more of a solid color, we can paint your cabinets to a near factory finish.  You'll never know we were there aside from your beautiful newly refinished cabinetry.
If you'd like to have an estimate to paint, stain or refinish interior cabinets, cupboards or other wood furniture and decor please give us a call or fill out our form and someone will get back to you right away.